Introduction
From SRM Ergometer Fokus:Diagnostik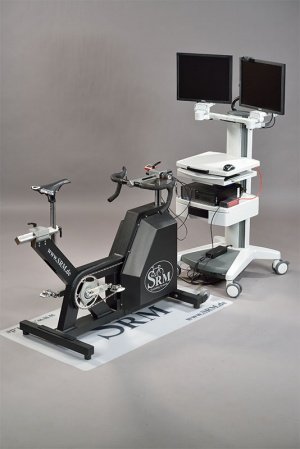 The so called SRM – High Performance Ergometer, was developed in cooperation with the German Cycling Federation (BDR), with Peter Keen of the British Cycling Federation and with Dr. Wolfgang Stockhausen of the University Hospital of Freiburg.
The idea was, to build a precise and scientific reliable Ergometer which can withstand and measure the maximal torque of the world's strongest cyclists.
The SRM – Ergometer is used by prestigious universities and performance diagnosticians for scientific problems in the laboratory, for exercise psychological research and also as a training tool to guarantee professional training supervision with high validity.
It doesn't matter which kind of cyclist you are, if you are a sprinter or a triathlete, the SRM – Ergometer allows you to optimize your individual bike position. That's why it has standard bike parts (handlebars, saddles, cranks etc.) and different sized fly masses integrated.
As a result, the kinetic energy can be simulated and used for a wide range of different test profiles. The goal is, that by riding on the SRM – Ergometer, you come as close as possible to real bike riding and simulate different profiles like flat or uphill riding.
The control of the mechanical construction of the Ergometers brakes is done by a specially programmed SRM – Software. This Software offers the user a great flexibility when it comes to programming own training protocols via the Ergometer.
For training purposes and also for performance diagnostics you can generate isokinetic as well as hyperbolic tests for any kind of bike rider. The control through the software gives the possibility to program ramp protocols, all kinds of incremental stress tests and training intervals for BMX-, Track- and Road cyclists as well as Mountain biker and Sprinter.
The centerpiece of the SRM – High Performance Ergometer is the SRM PowerMeter science, which reaches a scientifically acknowledged accuracy of ± 0.5 %.
Technical data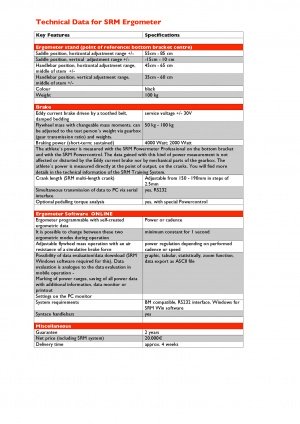 The technical key features of the SRM – High Performance Ergometer are the following,
SRM–Ergometer with integrated SRM - Training System Science Version (data accuracy ± 0.5 %)
The frame is welded out of high strength aluminum profile parts
Oscillating mounted gear box with eddy current brake and variable fly mass. Because of the oscillating bearing there is not much sound
The eddy current brake is controlled by a power supply with +/- 24 volts
Breaking power: from 20 up to 2000 Watt; short term even up to 4000 Watt
Two changeable fly masses with 14 – gears of the Rohloff hub that simulate kinetic energy and the sensation of cycling at high speeds realistically and which can be adjusted to the athlete's weight to allow the maximum simulation of real conditions
Saddle position and handlebars can be adjusted to any position for cyclists between 140 and 200 cm height
Close Q – Factor of 151 mm
Individually adjustable crank length from 150 mm-190 mm, in steps of 2.5 mm
Isokinetic and hyperbolic operation mode programmable
Easy change and assembling of standard bike parts (different crank lengths, pedals, handlebars, saddles, chain rings, etc.)
The SRMWin-Software for ease of programming tests and for data analysis is included in the package
The weight is around 100 kg to guarantee stability
On the front there are two wheels on which you can roll or transport the Ergometer (after you lifted the rear part)